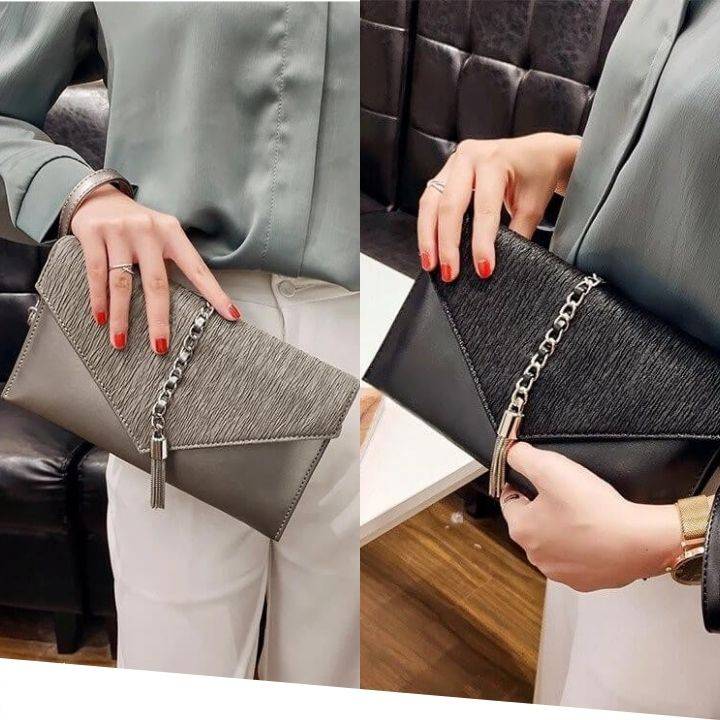 • A stylish envelope clutch with a detachable wristlet strap and a long crossbody leather strap.
• Rich genuine leather with fabric lining.
• Accented with silver-toned hardware.
• Soft interior.envelope leather clutch
• Magnetic closure.
• Spacious for all the necessities of a special occasion or a night out, such as cards, keys, ID, tissues, compact, lipstick/gloss, tissue, phone (fits even an iPhone XS max).
• A main pocket that comes with a zipper-closure to secure belongings, with 2 card slots. leather clutch
• An second pocket (open) for an easy-access storage option, also comes with an internal zip closure pocket.
• Size: 10.2" (W) x 5.7" (H) x 1.10" (D).
• Occasion: perfect for night outs, dates, cocktail parties, family reunions, prom, weddings, parties, formal dinners and so on.
• Style No. 71543 wedding purses
How do we keep our prices low?
FINEPARIS® is commited to offer the best prices to its customers with full transparency without compromising on high-quality and guaranteed customer satisfaction. Below are the main points that help us accomplish this goal:
• Established roots in the fashion accessories industry.
• No underground middlemen.
• We design with beauty, soul and purpose.
• Long term cooperations with reliable American suppliers for sustainable, innovative, eco-friendly and ethical sources.
• Advantage of operating online.
• No stocks - Get what you like, not what we have.
• In-house stylists.black leather clutch
• No hidden charges or recurring fees.